The school year has started, but the pigs have given up and don't do their homework, except Smarty Pig who is working hard.  When the others fail, she becomes their tutor.  By creating games in their home that practice skills, Smarty Pig shows them that learning is fun and not just for school, it's for life.
ISBN-13: 9781612440484
Publisher: Halo Publishing International
Publication date: 11/30/2011
Pages: 30
BUY THE BOOK…
ABOUT THE AUTHOR…Molly Nero grew up in Texas loving to sing, dance, and read.   She spent over 18 years teaching elementary school.  Reading to her own children, she was inspired to write.   Molly Nero recently moved to Pennsylvania where she resides with her family, 2 dogs, and a leopard spotted Gecko and enjoys writing, cooking, and making snowmen.
Author Website:  www.smartypigbooks.com
Facebook URL:  Molly Costen Nero
FROM LITTLEONE…I liked the part where they do science and math. At home I like to play with our monopoly money and pretend I"m shopping at the grocery store and at school I"ve made a pattern necklace too with cereal. I think the book is good and funny!

FROM MOM…Vibrant colors and fun rhyming theme throughout the book. Excellent children"s book about the importance of taking the time to study with real examples of how they would use the skills in real life. We definitely recommend this book for all young readers in elementary school to read alone or with parents and teachers.
THE GIVEAWAY...Just leave us a comment below and you"re entered! Easy! Giveaway ends January 31st at 11:59pm! Now enjoy a sneak peak of the book below…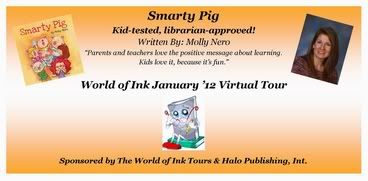 January 3rd
January 4th
January 5th
January 6th
January 9th
January 10th
January 11th
January 12th
January 13th
January 15th
January 16th
January 17th
January 18th
January 19th
January 20th
January 22nd
January 23rd
January 24th
January 25th
January 26th
January 27th
January 29th
January 30th
January 31st
We received a copy for an honest review. 
5 Responses to "Smarty Pig {#Book Review + #Giveaway}"